Industrial & Commercial:
Commercial installations are our speciality.
Here are a few of the services we can provide.

LED Lighting Design Specialists
LED lighting is fast becoming the standard, the technology has advanced and the cost has come right down, giving the user a better recovery rate on Initial outlay, saving you money on energy bills and maintenance, LEDs generally lasting considerably longer than standard lighting.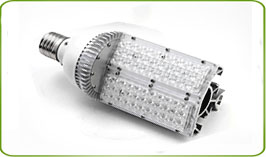 Domestic:
We can fill your electrical needs in your home, whether it be a simple addition plug socket or a full rewire.
We deal with everything electrical, no job is too big or too small! Below is a list of just a few of the services we can do for you.

Power Mapping: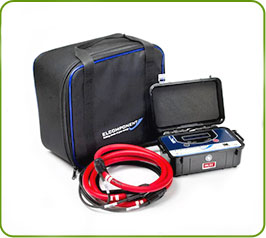 Our Power Mapping unit allows you to view graphs showing voltage/current, kW, kWh, CO2 and cost. The unit gives you minimum and maximum current and times they occur.
Useful if your installation is nearing maximum incoming current, allowing you to make the decision to upgrade incoming supply or to shift usage. We will provide a quotation for installation, and also advise on making your property more energy efficient.
Engraved Laminate Labelling
Concept Electrical Contractors (IW) Ltd can also provide engraved laminate labelling for electrical, mechanical and other uses.
We can provide labels in a wide variety of colours and sizes up to 550mm x 450mm, with pre drilled holes or self adhesive, we can also engrave electrical accessories with circuit numbers etc.
PAT testing: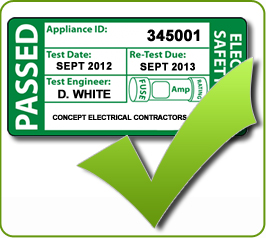 We are specialists in the field of Portable Appliance Testing and provide a fast, reliable and professional service at great prices to companies, educational institutions, landlords, hotels and many other types of organisations. We also partner with Facilities Management companies who trust us to provide a fully managed service to their clients.
Why Choose Concept PAT testing?
We believe that electrical safety is important and that portable appliance testing should be made available to everyone. We understand that the two major factors in this are cost and the worry of being charged for hidden extras such as call out charges and bills for additional labour. We're confident that our pricing structure will set your mind at ease.
PAT testing on the Island
We provide portable appliance testing services to business and organisations Islandwide.
Emergency lighting & Fire alarms:
We install exit signs, or guidance lighting wherever you need it, for the times you need it most. Contact us for more information
We are also providers and installers of bespoke and total fire alarm systems. Anything from a smoke detector to a full wired mains system.